Karen Cobb's latest Album - Where it Begins
Karen Cobb does it again with her latest album "Where it Begins." Featuring Karen's unique ability to write, produce and sing her original works. "Where it Begins" consists of six original songs and four covers of classics done her distinct way with a mix of Jazz, Pop, Funk, Gospel and Rock.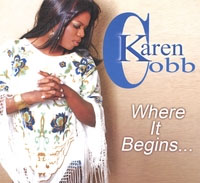 Order now!
You can order Karen's new album now!
The Karen Cobb Guestbook is Currently Under construction!
Please send Karen a comment via Email for later posting to the guestbook.